Slamm Treason Stunt Scooter | Black
Availability:
In stock (ready for dispatch)
Dispatched within:
24 hours
Price:
€168.08
€191.28
168.08
incl. 23% TAX, excl. shipping costs
The lowest price during 30 days prior to the promotion:
€168.08
If the product is sold for less than 30 days, the lowest price since the product went on sale is displayed.
product unavailable

add to wish list
Description
The Slamm Treason is a meticulously designed high-end stunt scooter. Stunning as well as technically advanced.

Equipped with new Slamm Cryptic wheels with a double-cut CNC deck and a double clamp also made by CNC, everything has a black silhouette. Futuristic laser-engraved graphics on the bottom and sides, 165mm brown Team grips and polyurethane wheels creating a new top, ready to break the rules your way.
Height (measured from the ground to the top of the handlebars): 86 cm
Weight: 3.85 kg
Deck: Boxed | 6061 T6 Aluminum | CNC | 527 mm (20.75 ") x 122 mm (4.8") | Headsets: integrated | nylon inserts | Slamm exclusive extruded Rail connector
Bar: T-Bar | 4130 Cr-Mo | 622 mm (24.5 ") x 585 mm (23") | Wed outer 32 mm (Regular)
Fork: 6061 T6 Aluminum | Compression type: IHC
Clamp: Aluminum | Double | CNC | Two M6 bolts
Wheels: Criptic | Aluminum | CNC | 110 mm x 24 mm | Hollow Core | Hardness: 88A | Bearings: ABEC-9
Grips: Team | 165mm | Super soft
Brake: Flex Fender | Carbon steel
Shipping costs The price does not include any possible payment costs
Product reviews (0)
We display positive and negative feedback. Statements are reviewed and approved before publication. You must be logged in to add feedback. We strive to ensure that feedback comes from customers who have purchased products from our shop.

Log in

Language
Please choose the right language

Currency
Please choose the currency

%SALE%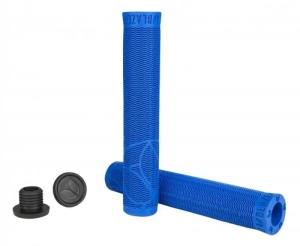 Blazer Pro Caliber grips | Blue
€10.43 €9.70
Kendama USA Nobu Nori Pro Model | Lil Match
€42.13 €38.76
REKD Pro Ramp knee pads | Black
€31.70 €29.48
Salt AM BMX Pedals | Black
€18.94 €17.61
Figz XL griptape | Send Him Home
€10.43 €9.70
Salt Everest 20" rear wheel BMX | Red
€138.09 €127.04
WTP WeThePeople Perfect grips | Sky Blue Grey Swirl
€14.68 €13.65
Blazer Pro SCS Stunt Scooter Clamp | Black
€21.06 €19.59