Kaizen 3.0 Kendama Shift Half Split | Sticky Black Blue
Availability:
In stock (ready for dispatch)
Dispatched within:
24 hours
Price:
€22.16
incl. 23% TAX, excl. shipping costs
Regular price: €27.36
22.16
The lowest price during 30 days prior to the reduction:
€19.15
If the product is sold for less than 30 days, the lowest price since the product went on sale is displayed.
product unavailable
Description
The Kaizen Half Split Kendama is a core pillar in the Kendama USA product line. It's designed for pro-level playability at an entry-level price.
This Kendama has multiple tracking elements including the green & white 1/2 split Tama design, the white top-dot on the tama, and the Kaizen engraving on the top of the big cup. The matching green string is extra long to accommodate modern play style and makes this dama a juggling machine. The grippy KUSA paint helps you lock in precision balance tricks. This Kendama is a great option if you're shopping for your first Kendama, or if you're an advanced player looking for a reliable go-to.
Shift Shape Ken
Made of High-Quality Beech Wood
Green & White Half Split Tama Design
Grippy KUSA Super Stick Paint
Extra Long Color Matched Strings
Tracking Top Dot on top of Tama
Features:
Wood: Beech
High: 18,5cm
Width: 7cm
String length: 60cm
Ball diameter: 6cm
In set included: Kendama, Instruction, spare string and bead, mega sticker pack.
Shipping costs

The price does not include any possible payment costs

Log in

Language
Please choose the right language

Currency
Please choose the currency

%SALE%
Triad Infraction V2 Stunt Scooter | Pink Black
€196.33
Regular price: €206.67
Lowest price: €137.70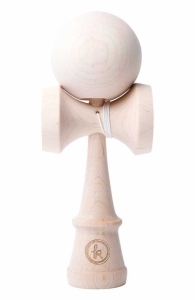 Kendama Record N1 | Maple Natty
€21.41
Regular price: €26.44
Lowest price: €18.51
Addict T-Bar HIC SCS Stunt Scooter Bar 680mm | Black
€45.52
Regular price: €68.74
Lowest price: €45.52
Solitary city scooter | Raven
€91.51
Regular price: €96.32
Lowest price: €81.87
MGP Origin Extreme Stunt Scooter 2020 | Liquid Coated Pearlized Green
€250.93
Regular price: €264.14
Lowest price: €206.67
Oath Bermuda 120mm stunt scooter wheels 2-pack | Neo Silver
€76.22
Regular price: €80.23
Lowest price: €68.20
Birdhouse Stage 3 Toy Logo skateboard | 8" Blue Red
€74.81
Regular price: €77.93
Lowest price: €66.24
Rocket Double Dipped skateboard | 8" Orange
€61.57
Regular price: €64.14
Lowest price: €54.52